Forthcoming book
Machineries of Empire #2
Solaris Books (June 13, 2017)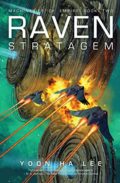 It was no secret that Kel Command, being a hivemind, frequently made questionable decisions. A few centuries abusing composite technology would do that to you. Brezan functioned indifferently as part of a composite, one of the reasons he had expected to land at a boring desk dirtside instead of here, but he conceded that that sense of utter humming conviction, of belonging, was addictive. At least things weren't likely to get worse. As it turned out, things were about to get worse.
Forthcoming short stories
Cadets who are unable to meet minimum musicianship standards will be assigned remedial work and stationed at the Wall to provide entertainment for our loyal troops there.
Cosmic Powers (April 18, 2017)
...Rhehan was impressed by colonists who had carved pictures into the soles of worn-out space boots: so useless that it had to be art, not that they planned to say that to the woman.